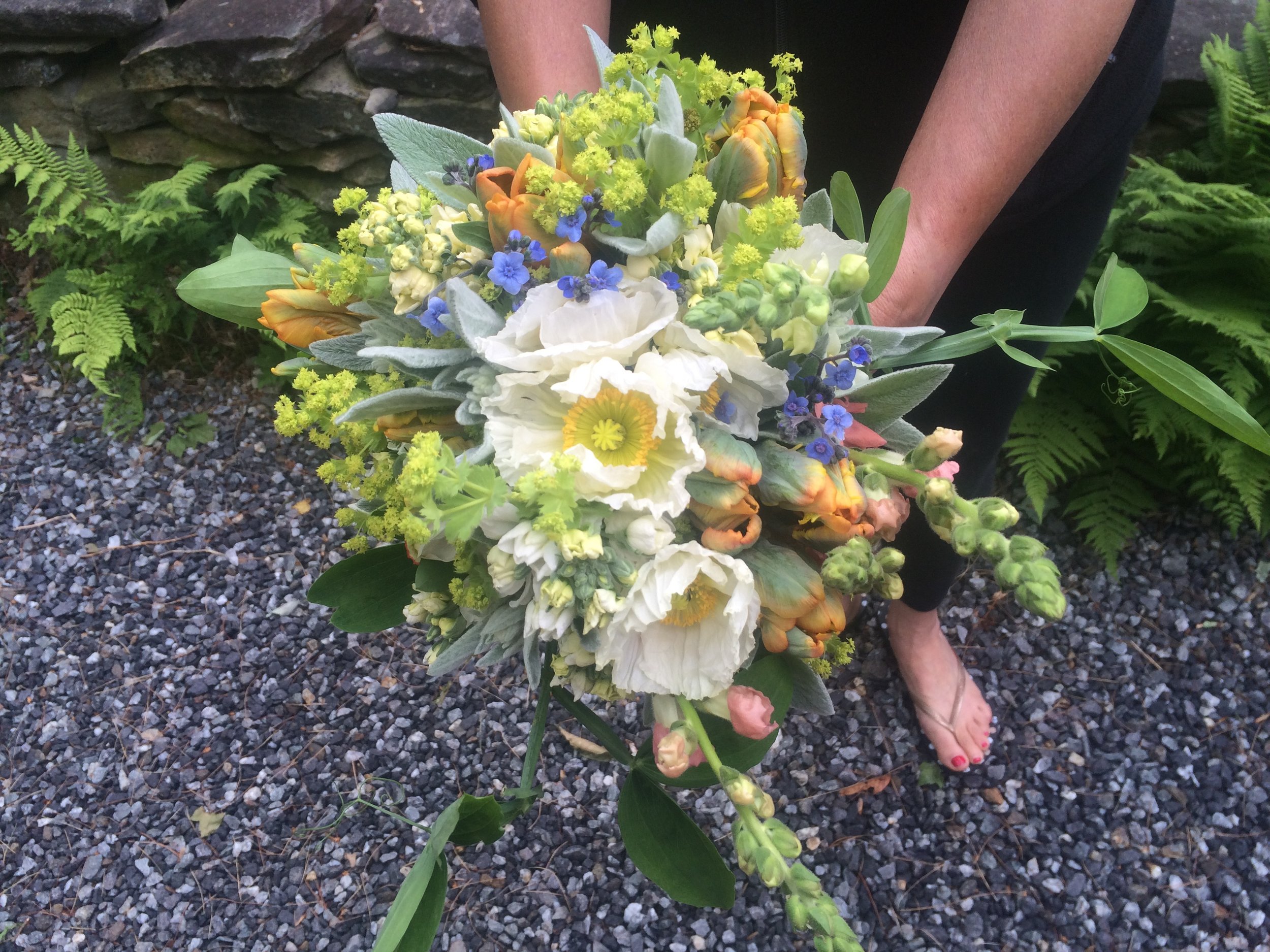 PLEASE NOTE
We are FULLY booked for the 2018 Wedding Season, including buckets of flowers for DIY couples. We appreciate you considering our farm and encourage you to reach out to other local growers. Thank you!
We will not start taking inquiries for the 2019 Wedding Season until mid-October once our current wedding season has ended. We are a small team and want to give each of our couples all the attention they deserve during our busiest time of year, and will do the same for you!
SEASONAL WEDDING DESIGN
We are farmer-florists offering seasonal 'seed-to-centerpiece' floral design. We are passionate about exclusively using local ingredients, nearly all of which comes from our farm in Bowdoinham. We take great pride in having intimate knowledge of where your wedding flowers are grown and the sustainable practices behind them.
The couples that work with us value local, seasonal, sustainably-grown flowers over specific varieties of flowers and are ultimately flexible about exactly what kinds of flowers we use. After sharing their color palette and wedding aesthetic with our design team, they trust us to bring their vision to life with farm-grown designs that are memorable, beautiful and seasonally inspired. They appreciate that we search for just the right flowers in just the right colors, harvesting each stem with their wedding in mind. Most importantly, they know that our work is a labor of love.
Full Service Floral Design
Available from the end of May through the middle of October
This package includes all the floral elements for your wedding -- from bouquets and boutonnieres, to arbor decorations and statement pieces, to table centerpieces and arrangements for the reception, and everything in between. It includes a consultation, your choice of rentals from our collection, as well as delivery and set-up on your wedding day. Each item is priced separately.
The floral minimum for this package is $2000, excluding sales tax and service costs such as delivery and set-up.
A LA CARTE
Available from the end of May through the middle of October.
When combined with Buckets of Flowers, this option is available from the middle of June through the middle of October.
There is a lot of flexibility built into the a la carte option. Each item is priced separately, which means that this option is fully customizable based on your needs. It is perfect for weddings that need a smaller amount of design work and do not meet our minimum for full-service. It can also be combined with our 'Buckets of Flowers' option (described below) for couples who want a DIY/hybrid approach to their wedding flowers. Most importantly, the A la Carte option is for couples that do not need any on-site set-up or on-site floral installations.
There is no minimum for this package, though delivery for weddings under $1,250 is subject to our team's weekend availability and is evaluated on a case-by-case basis. Couples are always welcome to pick up on the farm one to two days in advance of their wedding day, no minimum.
BUCKETS OF FLOWERS
Available during the peak of our growing season, from the middle of June through the middle of October
Buckets of flowers can be purchased as a stand-alone order, or can be combined with the 'A La Carte Option' described above. We basically choose the flowers and elements we would work with if we were designing arrangements for your wedding. And because we harvest specifically for your event, you get flowers that compliment each other as well as your wedding colors and overall aesthetic.
Our buckets are a balanced mix of focal flowers, fillers and foliage, and generally contain between 75-100 stems. How many arrangements you are able to get from a bucket depends on the type of vessel you choose and how full you want your arrangements to look. But in general, you can expect to get 6-8 full-looking mason jar table centerpieces from each bucket.
Couples can elect to have their colors be 'Farmers' Choice' where we create the palette by choosing our favorite blooms from the field ($80 per bucket), or couples can choose specific colors ($95 per bucket). For this last option, we ask couples to select a minimum of 4 colors (i.e. greens, whites, pinks and accents of yellow). Please note that special requests (i.e. fewer colors, taller stems, etc.) may increase the price of the bucket.
DIY couples are responsible for securing their own vases and for figuring out how many buckets of flowers to order. We provide a document that includes some tips, as well as a list of essential materials and supplies DIY couples should have on hand to make their arrangements. Buckets are picked up at the farm one to two days before the wedding. There is no minimum for this package because couples are expected to pick up on the farm.